Welcome from Emma...
Welcome to Emma Ward Dance and Performing Arts.
Opened in September 2012 at The Pavilion, Cheltenham, Gloucestershire.
I really hope you will find the classes we offer to be of great interest – we certainly have a lot to choose from, regardless of your age, ability and aims.
Our aim is to develop the potential and confidence of our students in a safe, relaxed and friendly environment. We want all our pupils to have fun with their dance, drama or singing whilst improving their skills and performance capabilities. We feel it is very important for our pupils to be able to recognise their own achievements and to be able to express their individuality through Dance and Performing Arts.
Emma Ward Biography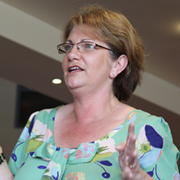 I started my dancing at the very young age of 3 years at the Madeleine Sharpe School of Dancing in Bromley, Kent learning the RAD Ballet Syllabus.
When I was 12 years old, I realised that I wanted to make a career in Dance, so moved on to the Doreen Bird College of Performing Arts (now Birds College) in Sidcup, Kent as a full-time evening student.
At 16, I was accepted to Birds College on a full-time Dance/Musical Theatre and Teaching course.
I trained in RAD and ISTD Ballet, Modern, Tap, Jazz, Musical Theatre and National Dance and taught Ballet and Modern Dance to the Junior School pupils during my full-time training.
In my last year of College, I gained my Associate Teaching qualifications and was awarded a Distinction in ISTD Ballet and the 'Most Promising Teacher' award at the College.
Rather than teaching when I first left college, I was very keen to work professionally and was lucky enough to have a career which took me all over the world.
I initially worked in the Performing Arts sector in Theatre, Hotels, TV in the UK and overseas and on various cruise liners. I then gained considerable experience in Production and Management of many shows on cruise ships and in the UK and was assistant choreographer on many of the in house Production Shows.
I then spent a number of years as Cruise Manager of a large Gloucestershire based Tour Operator, where we chartered cruise ships from the UK offering a range of itineraries all over the world and providing the on board Entertainment Programme and Daily Activities.
The last few years has seen me return to my first love of teaching and I am thrilled to now be able to start my own school and develop, through my professional experience, the potential of all my past and new students.
I am an Associate Member of the Imperial Society of Teachers of Dance.